All publications are available at our monthly talks, and at Bargoed Library and The Winding House with no postage, Some are available at Ystrad Mynach Library and a few other local outlets. If you wish to buy any of our publications and don't live locally, please  Contact us
PARISH OF GELLIGAER IN THE NINETEENTH CENTURY
Including histories of Gelligaer Village, Pontlottyn, Bute Town, Tirphil, Darran Valley, Bedlinog and Trelewis.
A hardback book of 316 pages (sized 23 by 16 cms – between A5 and A4)  including photographs and maps    –    Official Price £12
Available for £10 plus £3.25 postage/packaging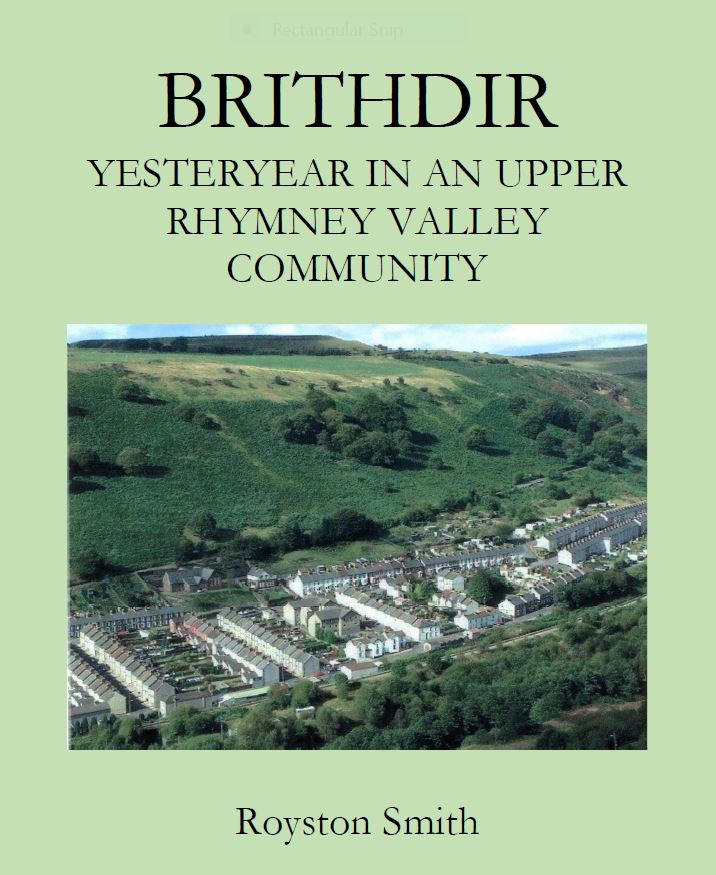 BRITHDIR
Yesteryear in an upper Rhymney Valley Community
A 356 page history of Brithdir village including over 100 pictures.
Softback version available for £8 (plus £2.75 p&p).

BARGOED AND GILFACH – A LOCAL HISTORY
A 336 page written history of Bargoed and Gilfach in a beautiful hardback book published November 2011
Now £5   (plus post and packaging £3.25)
Gelligaer Historical Society Journals - see right for content
Parish of Gelligaer - The farms and their families 1540-1840
Gelligaer Historical Society Journal Content
Volume 29   2023 
This journal is dedicated to Honorary Member, Mrs Annie Owen, M.A. B.A.
Annie Owen, M.A., an Appreciation     by Fred. Holley
Natural and Renewable Energy Sources in Gelligaer Parish     by Annie Owen
Rosser Thomas – Coal Mining Pioneer    by Sue Allen
Rhymney Iron Company's Dyffryn Colliery explosion 1883        by Annie Owen
The Japanese Band, Cardiff 1902    by T.F. and J.D. Holley
House History    by Annie Owen
James Hood Rankin (1873-1947)    by Annie Owen
Prominent characters in the story of Llewelyn Bren – their fortune and Fate    by Stuart Broomfield
Bela Bodo of Ystrad Mynach (1932-2017)    by Neil Hempstead
A Memorable Christmas Adventure    by Béla Bodó
"The Graig", Bedlinog, and its cemetery     by Judith Jones
Horace Alfred Weatherley – 21 Years a GUNNER     by Royston Smith
A lucrative trip from Bedwellty to Bedlinog in the 18th Century      by  David Mills
George Warrington Gale     by Royston Smith
This unstable Earth     by Carwyn Hughes
Bedwellty Show, in the old Parish of Gelligaer    by T.F. and J.D. Holley
Volume 28 2022
Wartime life as a Bletchley Girl – Ann Reed by Royston Smith
Comrades, Come Rally by Dic Felstead
The Jones Family of Hengoed by Annie Owen
Memories of a childhood in Bargoed by Gwilym Thomas
William Perrott 22 May 1799 – 18 April 1850 by Jane Owen and Sue Allen
Ysgwyddgwyn Methodist Chapel – GHS research on chapel's closure
Treharris Brass Band 1882 – 1932 by T.F. Holley and J.D. Holley
Looking Death in the Eye – Spain 1937 by Dic Felstead
Dr Charles Reidy M.R.C.S, M.R.C.P by Fiona Marshal
Coal for the Grand Fleet – the Jellicoe Specials by Terry McCarthy
Deri Institute and Library by Annie Owen
The Truck System – Shop at Pengam and Hengoed? by David Mills
Summerfield Hall School For Girls by Annie Owen
Tom Thomas – First Welterweight Champion of Wales by Royston Smith
Gelligaer Village School Log Books 1875-1894 by D. Gethin Thomas
The Welsh Rulers of Senghenydd by Whitney R. D. Jones
Volume 27   2020
Pontlottyn and the Irish/Welsh riot of 22 August 1869 by Stuart Broomfield
Evan Thomas, miners' agent (1859-1909) by Annie Owen
The life of a miner by John Andrewartha
Ted Williams, bare-knuckle boxer by Sheila Little (his granddaughter)
Pictures of Post-war pantos in Bargoed by Sheila Little
The Missing Years by dic felstead
A piece of Gelligaer Common in the City of London by Carwyn Hughes
Caerphilly Twyn School Memorial Tablet by Royston Smith
Gelligaer Historical Society – a brief history by Judith Jones
Philip John While (1899-1907) by Menna Hughes (his niece)
Two Penarth Alabaster Memorials by Michael Statham
Queen Victoria's Jubilees 1887 and 1897 by Annie Owen
A Victorian Sailor's Life – Morgan Anthony Swidenbank by Royston Smith
Richard Jonah Bull and John Rowe by Annie Owen
Brothers-in-law – Jenkin Powell Jones and Walter Hogg by Annie Owen
Becky Jenkins and Carl Virgin by Annie Owen
The Missing Link by David Mills
The Smallest Colliery in the Kingdom by Kevin Dicks
Sheep-Shearing in and around Gelligaer Parish: Part 2 by Judith Jones (see Volume 26 for Part 1)
Two freehold farms in 19th century Ystrad Mynach by Annie Owen
Volume 26   2019
Doris' Story: or the Years Between by Doris Evans and Amanda Gregory,
Pantywaun and District by Annie Owen,
Remembering Llewelyn Bren by Stuart Broomfield
Sheep-Shearing in and around Gelligaer Parish: Part 1 by Judith Jones (see Volume 27 for Part 2)
The Pengam Pageant (1913): Views from the Tiltyard by dic felstead
Powderhall by Carwyn Hughes
The Fighting Morgans of Tirphil by Royston Smith
The 1903 Walking Craze at Nelson by Kevin Dicks
Early Coal Mining South of Blackwood by Sue Allen
Volume 25   2018  Great War Edition 2
I went to Ypres to unveiling of Menin Gate by Royston Smith
Wartime work with Scottish Women's Hospital by Annie Owen
Trefor Lewis: Private 24946 SWB by Jen Prichard
Three great aunts in the World War I era by Marlene Chard-Shaw
Memorial to Corporal Thomas John Lewis by Royston Smith
Samuel Weeks 1890 –1915 by Pauline Moore
The Forgotten Soldier by Paul Williams
Ewart Edmund Lewis (1890-1918) by Coastlands LHG and GHS
Private David John Fear by Royston Smith
Local communities and Belgian refugees by Annie Owen
GKN Fochriw Pits Memorial Plaque
Powell Duffryn Officials' Roll of Honour 1914-1918
The Lindsay family of Ystrad Fawr by Annie Owen
The Famous Old Ball Court on the Square by Kevin Dicks
The year when everything changed by Audrey Griffith
Lewis Lore
Schneidemuhl Prisoner of War Camp by Royston Smith
Commonwealth War Graves Commission graves in Gelligaer Parish
Peace by Annie Owen
Volume 24   2017
Mason on the Move (Morgan Edwards 1850-1925) by Nesta Jones
History of Penybank by Annie Owen
The Chartists of Llanfabon and Gelligaer by Brian Davies
Thomas Matthews: A Broken Harp by Dic Felstead
The Watson family, Tir y Felin, and the development of Deri by Judith Jones
Chief Fire Officer Capt. Percy Jack Moody GUDC Fire Brigade by Keith Mills
Glan-y-nant, Pengam – A 1947 Survey by Margaret Boulton
Building Clubs – Railway Street, Trelewis by Greg Buick
A Long Time Ago: Bargoed, 1945 by Dr Whitney Jones
Bargoed Memories by Clive Williams
The Running Track at Bargoed Park by Clive Williams
David Williams: Some Awkward Questions by Dr Whitney Jones
George Paget 1874 – 1956 by John Watkins
John Morgan (Trelynydd) – Welsh Bard by Royston Smith
Madame Betty & Chateau Bourblanc a true story of many parts by Menna Hughes
Newspaper reactions to industrial disaster in south Wales: A comparison between Senghenydd, 1913, and Aberfan, 1966. by Owen Evans

Volume 23   2016 Great War Edition 2
Gelligaer Tunnellers – Peter Walker
Gelligaer Parish soldiers from the 1st Battalion Monmouthshire Regiment who died in the Second Battle of Ypres, April to May 1915 – Stuart Broomfield
Grandad's War – Lynda Osborne
Brithdir Schools 1914-1926 – Royston Smith
Local women during WWI – Annie Owen and Judith Jones
Some Local D.C.M.s – Annie Owen
The Hengoed / Bryn Seion Roll of Honour – Gethin Mathews
Bedwellty Church Roll Of Honour – David Mills
Bargoed Buffs: Roll of Honour unveiled
Letters Home – Royston Smith
Wartime experiences of some Pontlottyn men, as reported in the local press – Annie Owen
Lost and Found – Private Ivor Coles – C. J. Stone
Carved in stone – Not Beet but Harding
David Bowen Engine Driver – Working Log Summer 1916 – based on research by Terry McCarthy
Switzerland and William Jenkins of Pontlottyn – Annie Owen and Judith Jones
Cornelius McCarthy (1879-1915) – Sally Savory
William Evan Williams – Sylvia Pitman
Somme Survivor – Harry and Andy Carroll
My maternal grandfather, Arthur Martin (1879-1915) – Jack Kemp
My great-great-uncle John Harrison – Marlene Shaw (nee Chard)
WWI and Jenkin Hughes, a young husband and teacher
Teacher Arrested on Suspicion at Barry
John Lewis Jones – Conscientious Objector
Driver Jack Farley No 60793, 77th Field Company Royal Engineers
Calfaria chapel, Bargoed honours its war service members
WW1 Memorials at the Parish Church of St. Sannan, Bedwellty – David Mills
William Arthur James 1896-1918 – John Watkins
Volume 22   2015
Wartime Wales – through the eyes of an evacuee – Graham Barnes
Violence in Bargoed. The riots of August 1911 – Stuart Broomfield
Herbert Gwyn "Bert" Turner – Royston Smith
Living With Ghosts – Dic Felstead
My old penny – Marlene Shaw
The Perrotts: A Gentry Family of Gelligaer – Sue Allen
Celebration of The Welsh In Patagonia – Colin Morgan
Artie Moore – The Forgotten Spark by Leighton Smart
A brief history of film exhibition in Bargoed – Angela Evans
Welsh Stereotypes in London at the time of Civil War – Rhiannon Creffield
History of Troedrhiwfuwch – Annie Owen
Volume 21   2014  Great War Edition 1
Testament of Youth – Dic Felstead
Gwenllian Lewis, Nursing in the T.F.N.S. – Judith Jones
Nurse Rose Smith – Annie Owen
Morgan Jones and the First World War – Wayne David
The Home Front, July 1914 – May 1915 – Audrey Griffiths
Bedlinog funeral with full military honours – Annie Owen
Trelewis responds to The Great War – Alun Watkins
Army Service – Glyn Williams
In the footsteps of the Heroes – Royston Smith
Farming 1913-1919 – Judith Jones
Extracts from wartime issues of Merthyr Express
Postcards from World War 1
Wartime visits by emigrants
Captain Edwin William Sidney Martin – Royston Smith
A Black Sheep – David Carter
William John Morgan – Neil Phillips
World War 1 … Some reflections – Menna & Carwyn Hughes
My Family in Uniform – Iris Owens
Lawrence Louis Sidney Cook 1890-1964 – Marlene Shaw
Gunner A. P. Cunningham 1895-1967 – Steven Austin Kings
The Story behind Ypres, Church Road, Gelligaer – Carol Henderson
Albert Joseph Gerrish
World War I and Education in Gelligaer – Annie Owen
The Impact of WWI on the Railways of Gelligaer – Terry McCarthy
Volume 20   2013
Bargoed R.F.C. 1950 – 1960 by Allan Jones
Hengoed between WWI and WWII by Nesta Jones
Edgar Evans and the Communist Party in inter-war Bedlinog
Gelligaer Urban District Council Fire Brigade by Annie Owen
Brithdir Yesteryears by Royston Smith
George Inn Board School (later Brithdir) 1879 – 1905
Samuel Davies Head Master – Brithdir Mixed School 1896 – 1915
A 19th Century Yeoman Family in the Age of Industry by Sue Allen
Life, Language & Leisure in the Upper Rhymney Valley Before Iron & Coal by Colin Morgan
Charles Winter (1700-1773) by David Mills
Volume 19   2012
Penallta Colliery 1905-1991 – This is the text of the talk given November 2011 by Gareth Salway, the author of "Penallta: A Pit and Its People".
Dr Thomas Llewellyn 172?-1783 – The only person in Welsh Biography Online to have been born in the Parish of Gelligaer.
An 18th Century Yeoman Family – The story of the family of Watkin Rees of Brynysgawen Farm, Mynyddislwyn in the 18th Century by Sue Allen.
An Accident – an incident on Bargoed Viaduct in 1943 described by Berwyn Jones (from Welsh Society of Wellington (New Zealand) web-site by permission of his family)
The History Of Caersalem Welsh Baptist Chapel, Aberbargoed – written by a Chapel member in 1902 for a local Eisteddfod. Translated from the Welsh by Colin Morgan.
Thomas Lewis DCM – how Thomas Lewis of Brithdir won the DCM; the medal is now on display in the Firing Line Museum at Cardiff Castle; by Phillip Campbell Smith.
Walter Lewis J.P. (1863-1926) : the miners' agent – The story of a miner but became a pillar of the Rhymney Valley community told by his granddaughter Jen Prichard.
Bargoed & Gilfach Shopping – Thomas' Shop by Martin Rees; Evans Bros' Beehive Stores by Ann Thomas and the Shopping Experience by Judy Ellis
Bargoed Rugby Club 1883-1939 by Alan Jones
Bargoed Football & Cricket in the Depression Years 1929 -1933 by Iris Owen
Volume 18   2011
1825 Gelligaer Man Transported to Australia by Colin Lewis & Greg Buick
The Gelligaer Eisteddfods 1840's -1854 by Jean Kember
Aberbargoed by Bill Smith and David Mills
Impact of railway development on the Parish of Gelligaer by Terry McCarthy
1894-1908 Bargoed Mixed (later Boys') School Log Book byAnnie Owen
Volume 17   2009
Evan James, Dr William Price and Iolo Morganwg's Utopia by Brian Davies
Some Local Women by Annie Owen
A Bargoed Lady's Reminiscences. Princess as Nurse by Thomas F. Holly
Transport Intersections over Brithdir Mountain by Terry McCarthy
A Powell Duffryn Heritage by Leslie M. Shore
Bargoed in the Past (a transcription)
Some Reminiscences of Gelligaer Historical Society in the 1960s by Whitney R. D. Jones
Early Religious Dissent in the Rhymney Valley by J. Gwynfor Jones
In the Footsteps of Saint Catwg by Islwyn Hughes
Tir Pontlottyn 1540-1830 by Greg Buick
Edmund William Lewis (1550-1620) Gent of Kilvach Bargoed by Jean Kember
Penallta's Bandmaster, 1931, Interesting Career of Mr. D. J. Stevens by Thomas F. Holly
The Most Important Part of a Will by David Mills
Galloways in Scotland and Wales by Innes MacLeod
Bargoed Juvenile Unemployment Centre, 1928-1937 by Annie Owen
Bargoed Salvation Army Band 1920-1940 by Thomas F. Holly
The Llanbradach Pit Explosion by Dennis G. Sellwood
Volume 16    2007
The Tribal Princes of Senghennydd Supra by Jean Kimber
The Origins of the Welsh National Anthem by E.D.G Williams
Lewis Family of Killvach Vargoed by T.G. Buick
The Closure of Bedwellty School by Terry McCarthy
Fochriw, Pontlottyn and Rhymney Brass Bands by T.F.Holley
Thank Goodness for Alcohol by David Mills
Fleur-de-Lys: Immigrants from Somerset & Gloucestershire by Annie Owen
National Library of Wales document LL/CC/G/758
The 1976 Drought recalled by Mary & Terry McCarthy
Excavations at Dan-y-Gaer and Gelligaer 2004
Volume 15    2005
Excavations at Dan-y-Gaer and Gelligaer 2004 by Dr Edith Evans
The Llanfabon/Cascade Hounds by Dr T.F. Holley
Morgan John Rhys, 1760-1804 by Nesta Jones
Melin Cylla and Penrhiwfelin by Jean Kember
Royalist or Puritan?  A Who was Who in Gelligaer during the Civil Wars 1642-49 by Jean Kember
The Mystery of St. David's Relics by Prof. Bernard Knight
Railways in the Rhymney Valley, 1920-21 by Terry McCarthy
Volume 14    2004
Roman Gelligaer by Clive Andrewartha
Common Land – A Common Resource for the Common People? By Judith Jones
St. Peter's Roman Catholic Church, Bargoed: A Brief History by Terry McCarthy
The Revival of the Gelligaer Hunt after the 1939-45 war by Dr T.F. Holley & (late) R.J. Boulton
Reminiscences, August 2003 by Gwyneth Isaac
A Visit to Mill Farm, Gelligaer by Charles Russell James,
Pre Industrial Deri by Judith Jones
Inns of the Village of Gelligaer and their inhabitants in the 1600s, 1700s and 1800s by Jean Kember
Recollections of the Bargoed Postmaster, 1914. By Lewis Edward (Translation Dr. T.F. Holley)
A Murderer visits Gelligaer by David Mills
Archaeological Investigations of the First Roman Fort at Gelligaer and its environs by Andrew Pearson
Volume 13    1990
Tribute to Mr W.H. Davies, M.A. by George Askey
Billo Preece, the "Wnt" Catcher by Illtyd David
Laying the Foundation Stone of Lewis' School Pengam by Rev. Roger L. Brown
Ceremony of Laying the Foundation Stone of the Chapel and School at Gelligaer          by Dr T.F Holley
System of Horsekeeping Employed at Llanbradach Colliery, Glamorgan about 1925 by W. Hearnden & Dr T.F. Holley
The History of Firefighting in the Glamorgans by J. Heath
Commission of Enquiry at Gelligaer in 1677 into Tithe Payments by Prof. T.V. Davies
Clwydtrawscae Farm by Judith Jones
Volume 12    1982
Tribute to the Late Mr E. Saunders, M.A. by A. Shone.
David Gethin Thomas by C.M.R. Jones
Mrs S. A. Williams by J.G. Davies
Myths and Folklore in the Parish of Gelligaer by R. Felstead
Art in the Rhymney Valley by Illtyd David
Gelligaer Parish during the latter part of the 18th Century by C. Roger Lee Brown
Circular Pigsties in the Gelligaer Parish by C.O. Jones Jenkins
From the Songs of Men by Walter Haydn Davies
Penallta "Stay Down" Strike, Feb. 1948 by Stuart Broomfield
Payment in Kind by Unkown Author
Volume 11    1977
Gelliargwellt Uchaf and the Stradlings by D. Gethin Thomas
William Lewis, Mormon by D. Gethin Thomas
The Gelligaer Coalfield and its Pioneers by Howard G. Meyrick
The Poacher's Express by Huw Ballard Thomas
Elergy by D. Gethin Thomas
Volume 10    1973-1974
Williams the Miser by Gwilym M Harries, B.A.
The Harp, by D. Gethin Thomas
An Ancient Lineage – from Ifor Bach to Edward Pritchard by Vincent A. Williams, B.A.
Taken for a Ride by Howard G. Meyrick
Volume 9    1972
Church Warden's Accounts by Vincent Williams, B.A.
The Griffith Jones Circulating Schools and the Parish of Gelligaer by Vincent Williams, B.A.
Transactions and Extracts from the Welsh "HANES RHYMNEY a PONTLOTTYN" (Rev. D. S. Jones of Haverfordwest.) Translation by G. M. Harries, B.A.
Tithing Troubles, Farmers' Revolt against Tithes 1747/8  by Vincent Williams, B.A.
A brief description of the Bargoed Locality in the Nineteenth Century by Bryn H. Rees
Volume 8    1971
The Rhymney Railway and the Bute Estate by John Davies, B.A., Ph.D.
The Day of the Explosion by Walter Haydn Davies, M.A.
The Powell's Works Pump by Howard G. Meyrick
Sepult Fuit Edwardus Lewis by Vincent A. Williams, B.A.
Hengoed Chapel Records by D. Gethin Thomas
Volume 7    1970
Rev. John Jenkins (Shôn Shincyn) of Hengoed as a Printer by T. J. Hopkins, B.A.
The Gelligaer Parish Tithe Customs by D. Gethin Thomas
The Penny Readings Resound in Rhymney, Fochriw and Pontlottyn by Walter Haydn Davies, M.A.
The Darran Explosion (as related by Mr. A. J. Mansbridge to Mr. G. Greeves)
The Naming of Nelson and its Christening Water by W. C. England
Volume 6 (Investiture Issue) 1969
Sections on The Appearance of Man,   The Romans,   Early Christians,   Glamorgan and the Lordship of Senghenydd,  The Norman Era,  Llewelyn Bren,  Mediaeval Government,  The Tudors,  Catholic and Protestant,  Roundheads and Puritans,  The Parish Tithes,  The Nonconformists,  Local Education,  The People,  Industrial Activities,  Local Government,  The Sources
Volume 5   1968
Dafydd Pen-y-Garreg by D. Gethin Thomas
The Rhymney Valley (Central Area), Industrial and Urban Growth, 1800 – 1960 by Olbris Davies, M.A., Dip. Arch., A.R.I.B.A.
Thomas Powell, Coal Owner by Howard G. Meyrick
Canon T. Jesse Jones, M.A., O.B.E. by D. Gethin Thomas
The Opening of the Lewis' School by Vincent A. Williams, B.A.
The Local Authority – An Anniversary by D. Gethin Thomas
Volume 4   1967
The Hamlet of Brithdir, 1821 by D. Gethin Thomas
Fleur-De-Lis by Beryl J. Toone
David Williams and Morgan John Rhys by Whitney R. D. Jones, M.A., B.Sc.(Econ.)
Llwyngolau and the Lewis Family by D. Gethin Thomas
The Pritchards of Tophill and Llancaeach Fawr by John T. Arnold, J.P.
Can Hannes Ffair-y-Waun by W. Davies ("Grawerth")
Supplement : Essays in Local Studies edited by D. W. Davies, B.A., L.R.A.M, Dip. Ed.
Volume 3   1966
The Gelligaer Parish Vestry in the Nineteenth Century by Dr. Raymond K. J. Grant
Gilfach-Fargoed Fawr by D. Gethin Thomas
The Norman-English Influence upon Upper Senghenydd by Whitney R. D. Jones, M. A., B.Sc.(Econ.)
Home for a Patron Saint? by D. Gethin Thomas
The Life and Times of a Seventeenth Century Cleric of Bedwellty by Rev. C. M. Griffiths, B.A.
Murder in Llanfabon by Vincent A. Williams, B.A.
Gelligaer Riots, 1843 by Howard G. Meyrick
Volume 2   1965
Excavations in Gelligaer, 1963 by Dr. Michael G. Jarrett
An Introduction to the Geology of Gelligaer by D. Emlyn Evans, B.A.
Cascade and the Perrot Family by D. Gethin Thomas
Gelligaer Village School Log Books by D. Gethin Thomas
An Industrial Background (Notes on the Tredegar Mineral Estate) by D. Gethin Thomas
The Growth and Decline of a Mining Community by G. M. Harries, B.A.